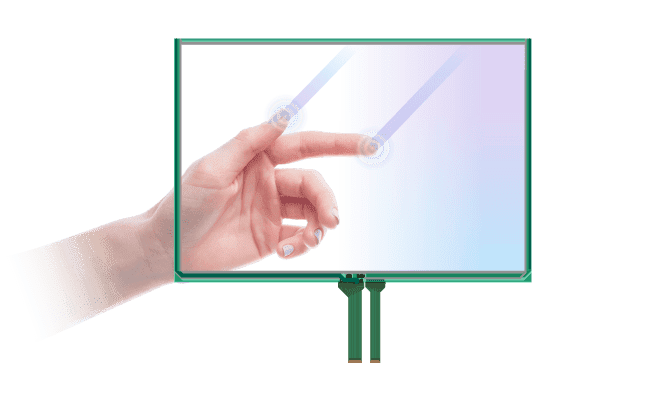 Multi-touch Gesture Operation with Resistive Touchscreen
Light Duty Multi-Touch
Resistive Type
4-wire Type
Film/Glass
Multi-Touch
Gestures Supported
Pen/Gloved-Hand
Anti-Glare or Clear
5.7
7w
8.4
10.1w
10.4
12.1
12.1w
15
15.6w
17
18.5w
21.5w
5.7
7w
8.4
10.1w
10.4
12.1
12.1w
15
15.6w
17
18.5w
21.5w
MULTI-TOUCH GESTURE
Smartphone-like operation with resistive film. Multi-touch gestures
4-wire cell type light load multi-touchscreen

DMC's original 4-wire cell type resistive multi-touchscreen series. Light-load multi-touch for smartphone-like gesture operation.
---
Analog multi-touch type

A touchscreen with a significantly reduced input load and a controller with a high output rate enable smooth multi-touch gestures even with resistive films.
---
No blur in operation due to high noise immunity

Compared to capacitance, pressure-sensitive operation eliminates the risk of noise. Multi-touch gesture operation is possible while maintaining the ease of use of resistive film.
Recommended for the following
RECOMMEND
I want to introduce gesture control easily

Anxious to adopt a capacitive touchscreen due to installation conditions, environment, and cost

Make complex operations as easy as possible

It's hard to remember to use buttons to navigate the hierarchy. You might operate a button by mistake

Operate like a smartphone

I'm interested in operating it like a smartphone. I want to control the screen with light touches and gestures
Please consider the series.
Other products are also recommended.